Thumbs.db file in Windows OS
You found a file called thumbs.db in one of your Windows folders and want to know what it is for and if you need to keep it. These files are something that you have not created, and you want to make sure they don't store some kind of malicious information. Let's see what the Thumbs.db files are and how they are handled.
Thumbs.db files store databases of thumbnails of images in a corresponding folder and are only visible if you have enabled the option to see hidden files. Thumbs.db is called a "thumbnail cache" used to store small scale versions of images and videos in the corresponding folder. One of the functions of thumbs.db file is that it allows image icons to be displayed faster in Windows Explorer because these smaller images do not need to be recalculated every time a user visits the folder.
That is, thumbs.db is a database file that contains a small JPEG files that represents each of the thumbnails in a folder. Thumbs.db files are required by Windows to display a thumbnail for each icon. These files typically show up in any folder which contain images and video content. Windows operating system creates and updates them automatically every time a new image or video file is added to a folder. These files are harmless and the only problem they can cause is by blocking the deletion of the folder. This can happen when thumbs.db is being updated or the process which updates it hanged due to any reason. The solution to this problem is to enable "Always show icons, never thumbnails" checkbox in "Folder options".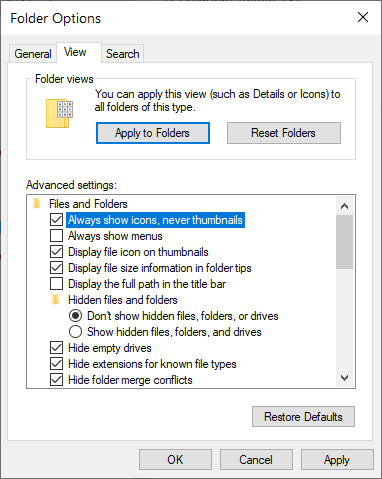 Can you delete Thumbs.db?
Thumbs.db file can be safely deleted from any directory, although it will be rebuilt automatically if thumbnail view is still enabled and you will see it again in that directory. So do not worry if you delete it accidentally.
Is thumbs.db file a virus?
The thumbs.db file is a Windows operation system file which it is not essential for operating system operation, as is. However, like all files on your computer, this is not exempt from being targeted by viruses. If in doubt, you can scan the folder that contains the file with any updated antivirus.
An example of the thumbs.db file is shown in the image below.